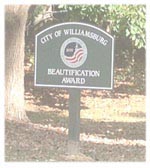 This website shares news and information among members of the Yorkshire Homeowners Association, introduces others to our community, and complies with state and local regulatory requirements for homeowners associations in the Commonwealth of Virginia. Our address is Yorkshire Homeowners Association, Post Office Box 1736, Williamsburg, Virginia 23187
Current Information of Interest
The Yorkshire community has events throughout the year including an annual business meeting in January, quarterly meetings of the Board of Directors, spring and fall cleanup days to maintain our common areas, community garage sales, an annual picnic in the fall, preparation and display of luminaires on Christmas Eve, and other events. Check this website for information on community activities.
Association members are planning our YHOA 2015 Fall events. These include:
The YHOA Fall Community Picnic will be held in September: Liz and Jerry Hedgepeth will be heading-up our Fall Fling to be held on Whitby Court.
The YHOA Community Garage Sale will be held in October. Clean out that closet. Your trash is someone's treasure.
When we know details on these events, we will provide them by email and post them on this website.
A meeting of YHOA members was held on July 19, 2015 to discuss changes to the Association's Declaration of Restrictions. At this meeting, over two-thirds of the lot owners voted in favor of these changes, and the new Restrictions were approved.
The Yorkshire Homeowners Association Annual Meeting was held on Sunday, January 25th. Click on the links to see the YHOA Annual Meeting Minutes and the 2014 Actual and 2015 Budget.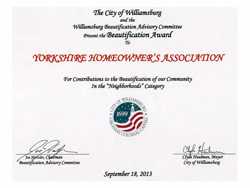 In October 2013 the The Yorkshire Homeowners Association was awarded the Wiliamsburg Beautification Award. Thanks and congratulations to our Landscaping Committee and volunteers from our community. Williamsburg's Beautification Advisory Committee, sponsor of the Beautification award program, states that the program honors City residents and businesses who contribute to the improvement and beautification of the city.
Yorkshire HOA Governing Documents
The following documents are provided to new residents of our community:
Other Website Content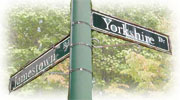 Description of Community: Yorkshire of Williamsburg is a beautiful residential community of 45 single-family properties. Building lots range from one-half to three-quarter acres and homes in the community have at least 2,200 square feet of floor space. Houses are primarily brick colonial-style and all utilities in the community are underground. Property in Yorkshire is held and sold subject to restrictions and covenants that are intended to maintain the appearance of the community and to protect property values.

YHOA Officers: This page lists current HOA officers and provides contact information. Other Yorkshire HOA Documents: This page provides links to important HOA documents from the past few years including minutes of key meetings, budget documents, architectural and landscaping reports, and annual reports.

Links: This page lists websites of interest including Virginia rules regarding HOAs, community links for Williamsburg area, and links to services that we use

Email the Webmaster to correct errors, provide new information, or make recommendations about this website.